Our company won the honorary title of O-Net "Excellent Cooperation Award 2021"
---
On December 22, 2021, O-Net held an excellent supplier network awards conference to jointly discuss the way of supplier management under the new economic situation. grand occasion. A total of 14 excellent suppliers were commended at this award ceremony, and our company was awarded the "Excellent Cooperation Award 2021" by O-Net.
In line with the principles of fairness, justice and openness, O-Net has conducted rigorous evaluations on all cooperative suppliers, and selected outstanding suppliers for honorary recognition. After a comprehensive review by the O-Net review team, our company performed outstandingly in terms of quality, cooperation, delivery, and service, and finally stood out from many suppliers and was awarded the "Excellent Cooperation Award 2021". We are grateful to every customer who believes in us during our growth, and hope Orte Communications can become your trustworthy good partner!
Our company has always been adhering to the service tenet of "reliability comes from professionalism, orte makes you feel at ease", "customer satisfaction is our eternal pursuit", never forgetting the original intention, and working closely with customers as always, to develop optical fiber amplifiers and optical communication modules Based on miniaturization and integration, the high-reliability optical fiber devices in the company continue to provide high-quality products.
A new year is coming to us, with both challenges and opportunities, we will forge ahead hand in hand with many customers and friends to create a better future!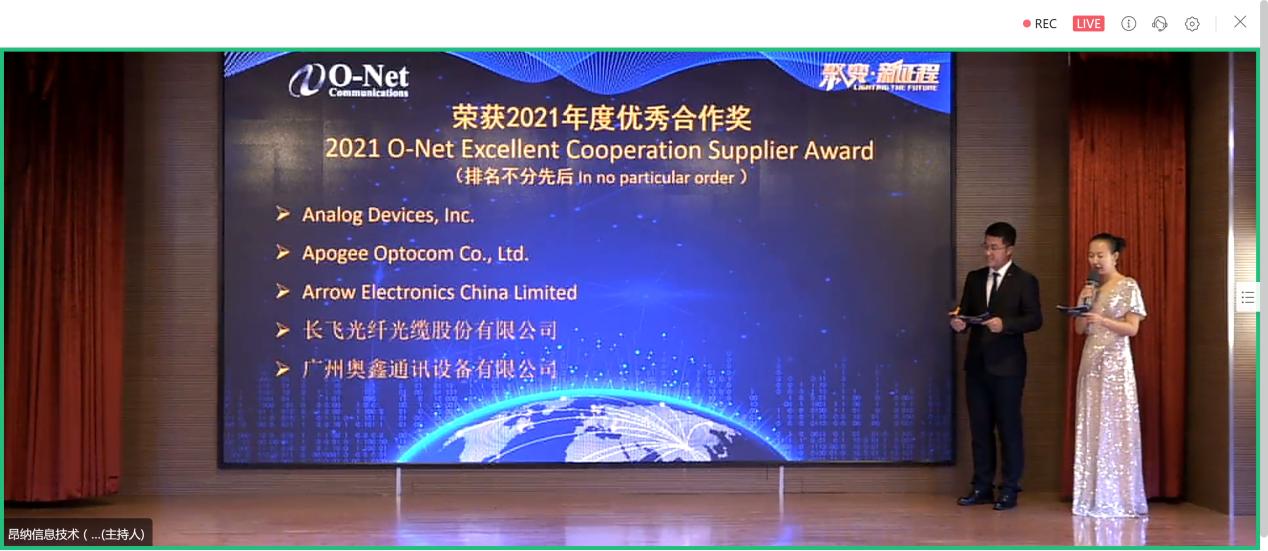 Further reading:
O-Net company introduction
Founded in October 2000, O-Net is a key high-tech enterprise of the National Torch Program and a national enterprise technology center. Headquartered in Shenzhen, O-Net also has branches in Beijing, Hangzhou, Wuhan, Hong Kong, North America and Europe. The company brand is "O-Net". As an enterprise that has survived the cold winter of the optical communication industry in the early years, O-Net has grown into one of the world's largest suppliers of optical communication devices and modules through nearly 20 years of hard work, and has developed multiple technologies in coatings and new materials. Leading the way in high technology.
keyword:
The company held the 2022 annual skill competition, the awarding of enterprise craftsmen and the of advanced figures
2021/09/15
Contact information
---
Sales hotline
Procurement Specialist
HR Specialist